Gluing down hardwood floors is a nice and easy way to lay them down. While wet, the glue is quite forgiving, and doing things correctly will give your flooring a great finish. However, sometimes you end up having to remove your flooring, so it's important to know how to pull up glued-down hardwood floors correctly.
Maybe something damaged the flooring too hard, or the boards are getting too old and you want to bring their shiny look back, or you decided that you didn't really like them. No matter the reason, removing the flooring correctly will make your life easier, regardless of what will replace it.
Floating, secret nail and glue-down floors all have their own specific ways of removing them, so in this article we will mainly focus on how to pull up glued-down hardwood flooring.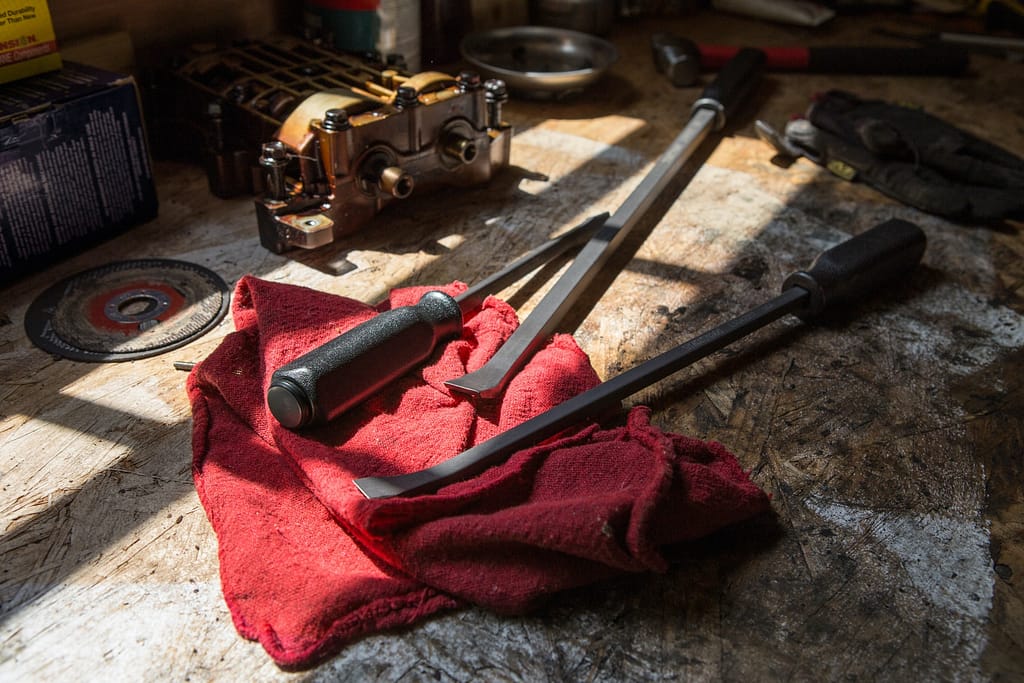 How to pull up glued-down hardwood floors: a short guide
The main thing to be aware of in this process is that the glue is incredibly strong. That means both that you'll need to apply a lot of force to remove the boards, and that you run the risk of damaging the subfloor or concrete underneath in the process.
Bearing this in mind, we'll give some tips on how to make this process a bit more manageable. However, you can expect it to last about as long as it took to lay it down. That is, assuming you have the same amount of people available.
Step 01 – Preparations
Make sure you prepare yourself and the area involved before you start.
You'll want protective goggles, gloves, proper shoes, masks, and all that. That's because of the tools you're going to use: hammer, chisel, pry bar, circular saw, hand scraper, putty knife. Maybe also some other tools you feel would make sense in this case and that you're comfortable using.
You'll also want to prepare the area. You're going to make a lot of dust and debris, so remove what you can from the room and cover up what you can't. This will prevent you from spending many more hours just cleaning stuff up afterwards, and lowers the risk of unwanted side effects.
Step 02 – Preparing the boards for removal
The easier way to remove the flooring is by cutting it into manageable pieces using a circular saw. Unless your floor is already composed of small tiled boards, you'll want to cut the boards into two to three-inch long pieces. Make sure that the blade is long enough to completely cut the board without reaching the subfloor!
You may think that this will make the process take longer. However, the glue used for these kinds of flooring is really strong. So, if you try to remove the entire board using a pry bar, there is a good chance that you'll end up breaking it multiple times in the process.
Cutting them down beforehand gives the same result, makes less of a mess and is also much less dangerous.
However, if you plan on keeping the boards intact, that can be much more difficult. A pry bar is certainly not the best tool for that. In this case, you may have more luck with a flooring removal machine, as they specialize in removing flooring.
However, you can expect them to be a bit expensive to rent and not exactly intuitive to use. They may also be a bit awkward to use, as they're rather large. And if the idea is to remove just a small section of the floor, then they may not be the best idea.
Step 03 – Removing the boards
If you opted for cutting up the boards, now is the time to use the pry bar. You should use the pry bar as the first option, as it is the easier tool to use in this case, especially if you're using a long-handled one. Just fit the bar in the middle of the pieces you've cut and force them out.
However, the glue may be stronger in some places than in others. If you aren't having luck with the pry bar, it's time to switch to another tool. A hammer and chisel may come in handy. With them, you can just rip the stubborn part into pieces, and it should be a bit easier to take it out this way. Just be careful not to damage the subfloor.
Step 04 – Take out the glue
The final step is to remove the adhesive. As it's quite strong, a lot of it may have remained, even after removing all the wood above it.
The first thing you should try is using a hand scrapper. In some places the glue may be looser than in orders, so this way you can remove some of it without too much effort. In others, it may take more work, but in general it should be doable.
To remove the more stubborn parts, you can opt for some kind of cleaning product that can dissolve glue, such as a stripper or an adhesive remover. This way it becomes much easier to remove the glue, as it will pretty much become liquid.
However, those kinds of products can be pretty toxic, and may even end up damaging the subfloor or concrete. So, before using them, check for your warranty and carefully choose the product, in order to ensure the best results.
Pulling up glued-down hardwood floors is not easy
If you don't have a lot of experience with removing flooring, you can expect it to be very difficult. While gluing down floors makes it easy to set them up, it makes it much harder to remove them afterwards.
To ensure you have the best results, get professional help. Here are Meta Flooring we are experienced with all things related to flooring and can help you out.
Follow this link to head to our contact form and get a free quote! We can help you handle your hardwood floors, and then also install another floor afterwards if you want!