There are many ways to install engineered hardwood flooring, such as by using secret nails, using click-lock or by gluing it down. If you are considering using glue-down engineered hardwood flooring, this article is for you!
Hardwood makes for great flooring. As the name implies, it's hard, resistant, solid, and stable. Not only that, but they look great: the view of the grains flowing through your home is a sight to behold.
And you also don't need to worry too much about repairs. Solid hardwood can be sanded and re-stained multiple times without losing its hardness.
Engineered hardwood is even better. Instead of being solid hardwood, it has a plywood core. While this is not as interesting as solid hardwood and can't stand sanding as much, it makes it cheaper, more stable, and more resistant to temperature changes.
If you have made your mind on glue-down engineered hardwood flooring, or you're considering which method to pick, this article will explain how to do that.
How to glue down engineered hardwood flooring: a short guide
Gluing down this kind of flooring isn't hard, but it can be a bit time-consuming. Expect to spend one to two days in this process, then wait at least 24h before using the floor, as the glue takes a while to dry.
Plan carefully: ensure you have the amount of floor boards you'll need, as well as the amount of glue or adhesive that you have chosen for the task. If you end up missing something and cannot find more to buy, you may end up with an unpleasant finish.
Step 01 – Examine your subfloor
Make sure to inspect and carefully prepare your subfloor before you begin laying down the glue. It must be clean, dry, and level. Otherwise, you run the risk of moisture seeping into glue or the boards and making the floor uneven.
You must also make sure that your subfloor is stable: look for any cracks or signs of damage. The flooring will hide these signs, meaning you won't be able to keep track of them afterwards. Make any necessary repairs before laying down the flooring.
If everything is fine, add the spacers to the wall before you start. Spacers add a bit of space between the flooring and the wall so that it doesn't warp because of thermal expansion.
Step 02 – Begin laying down the floor
Make sure to open all windows and the keep the room well-ventilated. The glue tends to have a strong smell and may even be toxic if you inhale its vapor for many hours at a time.
Begin by defining your starting section: pick a side of the room that will be parallel to the boards, then define a line about two to three boards wide that follows its length. The size of the section is related to the glue's cure time, so if it has a fast cure, you should use narrower sections.
Apply the glue along that region, then lay down the boards. Make sure that they are well-fitted to the walls and to the neighboring boards. Also, apply glue to their sides so that they fit well with the other ones. If the glue ends up seeping upwards, wipe it quickly, otherwise it can damage the upper face of the boards.
Make sure you cut down the boards before you start laying them down, so that it's easier and faster to fit the ones that need to be cut.
Step 03 – Repeat step 02
If everything went well and the section you laid down is looking the way you want it to, it's time to lay down the rest.
To do this, do just as you did step 02, but starting near to the previous section. Create a glue section of the same size, add glue, put down the boards, and ensure that they fit well. Do this until you finish laying them down, being careful not to step on the ones you have already glued.
Step 04 – Finishing touches
After 24 hours have passed since you laid down the last board, you can now do the finishing touches.
Remove the spacers, add transition pieces between rooms, add baseboards and shoe molding, furniture, carpet, and all that.
However, make sure that you attach the baseboards and shoe molding only to the wall. Attaching them both to the wall and the floor will result in damages from thermal expansion, as the spacing added will be useless. Also, make sure that they are wide enough to completely hide the spacing.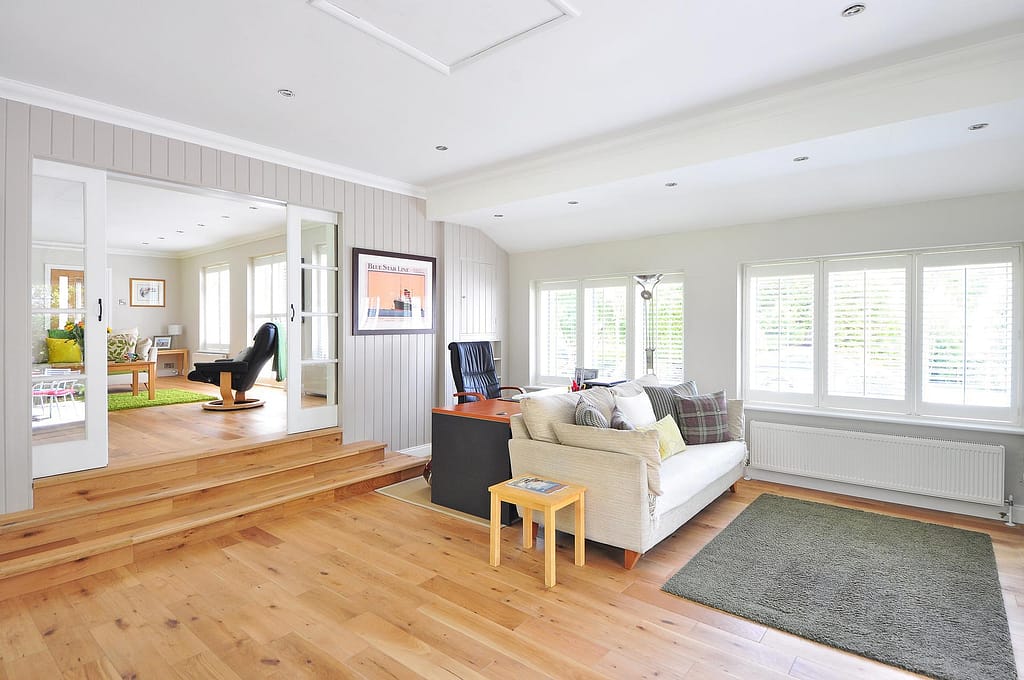 Glue-down engineered hardwood flooring looks simple?
It may look simple, but there is a lot that can go wrong. There is always the risk that you'll end up making a mistake and only notice afterwards. After the glue has dried, it's not easy to make small changes. It can be hard to do that even while it's drying.
To ensure a perfect finish, call experienced professionals to do the job. Contact us, and we will give you a free quote! It's fast and simple, and it's the first step towards having the house of your dreams.