When we are building our new home or renovating the one we have, there are a few things which we need to pay attention to. And the floor, although present in our daily lives, is usually forgotten, until something happens. As soon as the first crack is heard, we remember to ask a very important question: how much weight can floor tiles take?
There is no need to wait until it breaks from heavy use to ask yourself that question. And you must know that this is not the only reason for tile floors to break or snap. Furthermore, different types of tile floors break from different amounts of pressure and causes.
So to understand all about how much weight can floor tiles take, keep reading this article!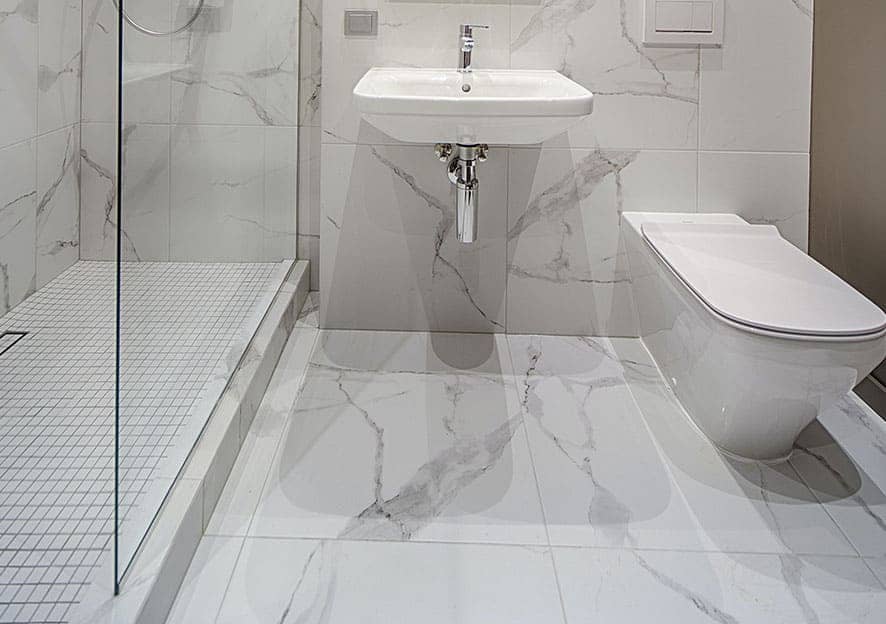 How to determine how much weight can a floor tile take?
You can think every tile is extremely different, but that is not always the case. Although there is a way and a category system for the break strength of each tile, there are regulations to be followed.
The American National Standards Institute (ANSI) requires the average tile strength to be at least 250 pounds, or approximately 113 kg. But every tile type has their own advantages and disadvantages when it comes to frequent use, which can impact on how much actual weight they can take. And this measurement is only about how much weight floor tiles can carry on their own, without any support.
That is to say, if you have a solid concrete subfloor, without any gaps between the tile and the subfloor, you don't have to worry. In this case, it can take a lot more than just 250 pounds. However, you might need to consult the manufacturer or the specialist installing your new floor about how to care for it. But what to ask?
How to tell the tile's break strength?
Typically, you can find the break strength informed in pounds on the package of the tile. Or you can just ask the manufacturer in some cases. If they don't have this information up front, or you don't find it in their website or package, don't worry. There is other information that is even easier to find!
The class rating of a tile can help you understand the appropriate places to use it. That means you can understand if it can handle heavy traffic or if it is just for decorating, like walls and panels. The classes go from 1 to 5, like you can see below.
Class 1:
The most delicate form of tile, only for light use, like bathrooms with limited barefoot traffic and filth or just decorations.
Class 2:
Can take moderate traffic, but high heels and heavy wearing is not recommended.
Class 3:
Perfect for kitchens and halls with heavy traffic and not a lot of pressure directly over it.
Class 4:
Great for heavy traffic and spaces with heavy furniture.
Class 5:
You can trust this one for your yard and areas of really heavy traffic. This tile can take a lot of wear, and you can count on it with basically every situation.
Types of floor tiles and their break strength
Now you know everything about how much weight a tile can take and how to find out if it is right for you. But what about all the different types of tiles, aren't they different? Which is stronger? Well, firstly, there are a lot of types of floor tiles:
Glass Tile;
Marble Tile;
And more.
Secondly, while it is unlikely that any of those will fully break under your feet or furniture, you need to be careful. They are not indestructible, but some can deal with more than others.
Porcelain Tile is definitely the strongest one. It looks just like natural stone, perfect for the outside, and it won't break or even scratch. However, it can be costly, but we guarantee it is worth it.
A second great option is the Ceramic Tile. It is one of the most common types of tile, because of its beauty and relatively low cost. This tile is very strong and can take a lot of weight, but it is not recommended for outside areas.
But if you are looking for strength, Glass and Marble floor tiles can't take that much weight. They are known for their beauty, but also for their easiness to chip and scratch. Furniture and heavy traffic are no good for this type of tile.
Where to find strong floor tiles with good installation?
Fortunately, you've come to the right place! Here at Meta Flooring, we focus on bringing comfort in every step of the way. We know how much a home needs to be a place of peace and care.
That is why we make every step count on our installation process. To make sure your tiles are secure and as strong as they can be. If you worry about how much weight your tile floors can take, just ask our specialists, we are here for you!
If you don't want to worry about all these details, contact us, get a free quote and see how we can take care of everything while you dream of your new home!