Do you watch your steps at night because you know it will make those horrible noises? Hardwood floors can sometimes sound like in a scary movie, especially in the winter. But do you know why they do that? And do hardwood floors really creak more in the winter?
In this article you will understand why they can make that noise, what to do in that situation, and if they tend to creak more in some circumstances.
Why do my Hardwood Floors creak?
The wood in your floors can expand and contract, depending on many conditions, and that causes it to squeak and crack! As you walk over the floor, the boards squeak and creak as they brush against each other or slide over nail shafts, creating a squeaking and creaking noise.
And there are a few reasons why you have to tip-toe around your own house:
Humidity
This is a very common reason why your floors are creaking. And the changing of seasons affects it a lot. When humidity rises, the wood expands, and when it lowers, it shrinks. With all that movement, it is common that nails will get loose and the glue won't stick anymore.
Detachment from the subfloor
Not only humidity can do that to your wood. Over time, the surrounding movement can sometimes make it loose. That way, it will certainly creak and squeak more!
Improper Installation
When Hardwood Floors are not properly installed, they can easily get loose and start creaking or breaking apart. But since their installation is simple, this is something rare to occur. It usually happens when people try to DIY instead of calling a specialized company.
Do Hardwood Floors creak more in the winter?
Sadly, yes! As soon as summer starts, the humidity in the air rises, causing the floors to expand. And when winter comes, the cold air is drier and causes the floor to shrink! All that movement makes the floorboards and nails to get loose, the glue to fade, thus making the boards rub against each other and make noises.
How to stop Hardwood Floors from creaking?
Finding the origin of the noise can be a little hard, but is not impossible. In fact, if you have a gap, an unfinished basement or something like that, under the house it is really easy. But not everyone has one under their house.
In that case, let's explore the options you have:
If you have a gap or basement
In the case, we mentioned above, this will be a 2-person job! One of you will be under the house while the other walks over the floor. As soon as you hear the creak, stop walking and step on it again. You will be able to identify underneath the loose board and use carpenter's glue to fix it.
You can also use screws or little wood blocks to fill the gap. If you have a longer gap, use Construction Adhesive to glue the board to the subfloor again.
If you don't have access to the subfloor
In case you don't have a basement or a gap under the floor to go under, you have other options. Most times it won't look good as new, because you will have to fix it from above, but with time you won't even notice it.
If you feel the gap isn't too long, you can just nail the board into the subfloor with a simple hammer and a nail. But for a more polished job, you can drill a superficial hole in the board and nail it to the subfloor. The hole needs to be the size of the nail, so it almost disappears on the board. You can drill a deeper hole and finish it up with some wood glue to tap the nail underneath.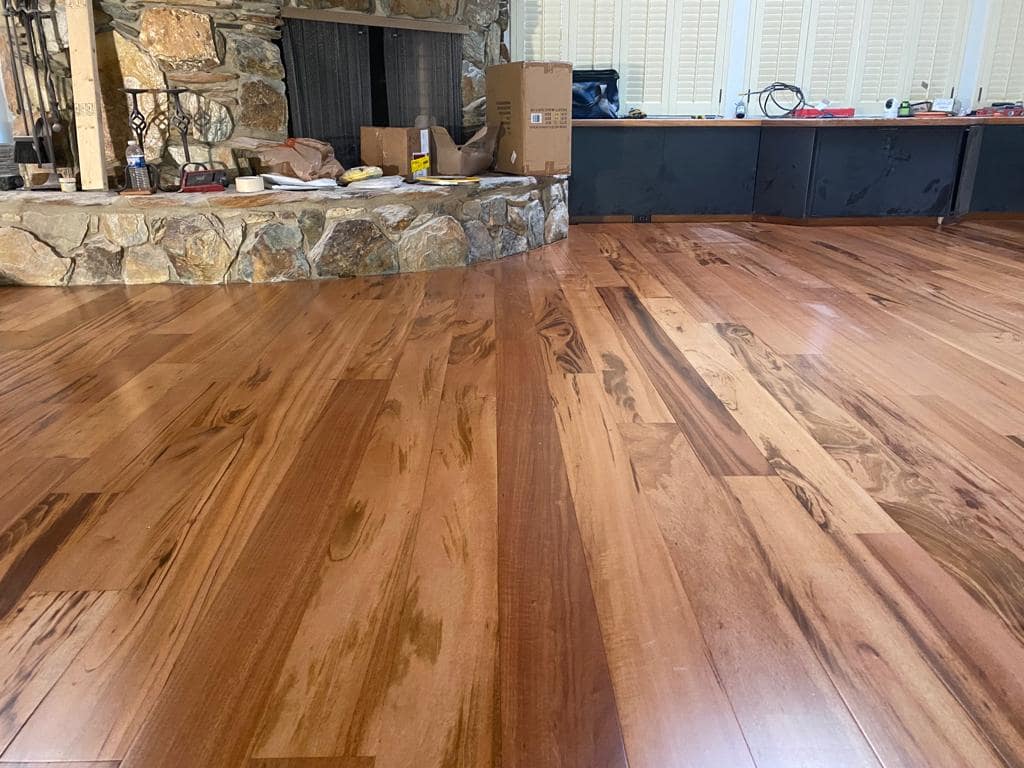 How to have properly installed Hardwood Floors?
Here, at Metaflooring, we make every step count, and care about the proper installation of your Hardwood Floors! You don't need to worry about creaky and squeaky floors anymore, with our experts you'll have perfect floors for years.
Conquer your dream home with our services, just click here and get a free quote for your new Hardwood Floors!