Vinyl is a great option for flooring, but when it comes to making your house feel like a warm and cozy home, wood is the way. And Laminate wood floors are the key to a beautiful and zero mess floor! So the question is, can you put Laminate wood flooring over Vinyl tile?
To go that extra mile in renovating your home, and bringing that cozy feeling, you always think of wood. But Hardwood floors can be a little messy to install. And although they are totally worth it, you have to keep in mind all the issues that can come with them. Sealing, maintenance for loose boards, keeping the humidity level to avoid squeaky floors and a lot more to deal with.
With Laminate wood floors, you have the looks and durability of wood, with practical and fast installation and a lot of benefits. Low maintenance, easy to fix in case anything happens, and several designs and shades to match your decor, are just a few of its advantages.
Vinyl tile flooring is a very popular choice for a quick change. They can look like stone tiles or even wood, but they can feel a little cold and fake after a while. If you tried out a Vinyl flooring that resembles wood and are ready to have the real thing, keep reading! Let's find out if you can install Laminate wood flooring over Vinyl tile, so you can start renovating your house!
Laminate wood flooring over Vinyl tile
Yes, one of the many advantages of Laminate wood flooring is that you can install it over many surfaces. However, there are a few things to keep an eye on before you do it. But first, we need to understand a little more about Laminate wood flooring and Vinyl tile flooring!
What is Laminate wood flooring?
Laminate wood flooring is a popular way to have the look of wood floors without the cost. Because of technological advancements, it is long-lasting, low-maintenance, elegant, and of great quality. It is a sort of synthetic flooring composed of layers, each serving a specific purpose.
The basis of the flooring is made up of a plywood or fiberboard core layer. For more protection and insulation, the backing layer is applied to the bottom of this core layer. The image layer is pasted on top of the core layer, which is also known as the printed layer. At last, a thin and transparent plastic wear layer sits on top of everything, putting all together and protecting the other layers from damage over time.
Laminate wood flooring is often placed as floating floors, which are made up of interlocking planks that are laid across an existing surface, in this case it can be Vinyl. There's no need for glue, nails, or staples. As a result, installation typically takes only one day.
However, if you need to prepare the surface before applying it, it will take significantly longer, especially if you are using vinyl flooring. So, read on to find out what to check for before installing.
What is Vinyl tile flooring?
Ok, Laminate is a great option for coziness, but Vinyl tile is not always far behind! Vinyl tile can be inferior to Laminate wood flooring, but have you ever heard of Luxury Vinyl Plank (LVP)?
This is truly the best of both worlds. Luxury Vinyl Planks are different from your standard Vinyl Tile. They are planks that fit together and are made from multiple layers of strong materials, such as PVC. It is durable, easy to clean and beautiful. It is waterproof and resistant to scratches and fading!
Both can cost almost the same, but Luxury Vinyl Plank flooring can be a little more expensive depending on the color, materials and the region you are buying them. However, you must consider which is the best option for what you need. Although LVP can be considered more durable or easier to maintain than Laminate wood flooring, the latter definitely brings the coziness real wood has.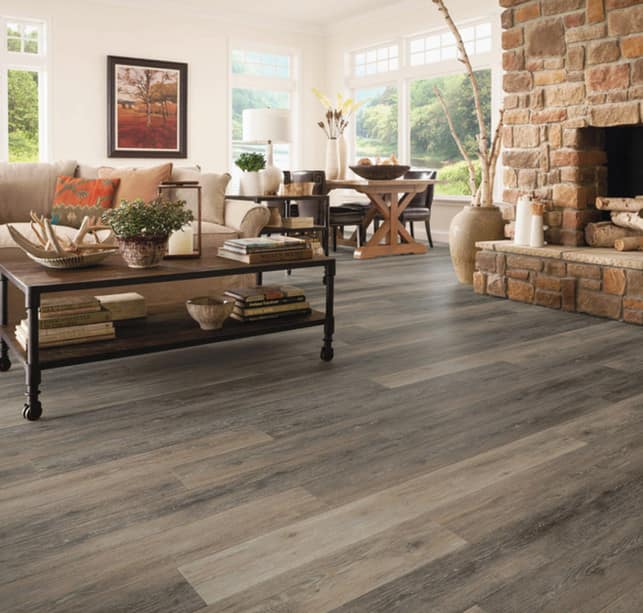 Check this before installation
Vinyl tile flooring is highly resistant and durable, and it probably doesn't show signs of wearing and tearing even after years of use. And Luxury Vinyl Planks are even better! You also win some benefits, like water resistance for the subfloor. So if you want to really transform your house with new Laminate wood flooring, you can!
As mentioned before, Laminate flooring is easily installed and as it doesn't require glue or nails, it can preserve the floor underneath to a certain extent. So keep your Vinyl tile flooring intact for now, and save a lot of time and money. Just make sure this is all checked out:
The vinyl is flat with no bubbles or humps;
Check how old the Vinyl is;
The vinyl is in good shape;
Check for humidity levels on subfloor, or else the vinyl won't protect it;
On top of the vinyl subfloor, you place underlayment;
All debris has been removed from the vinyl, and it has been thoroughly cleaned.
How to maintain your Laminate wood floors?
Laminate flooring is quite simple to maintain. They only require a vacuum and a moist mop with a light detergent. Avoid accumulation by washing it down every day and using a moist mop once a week to remove the worst filth.
As previously said, the wear layer already protects the surface from scratching and fading, but with proper maintenance, it will appear as good as new for a long time. Put some felt beneath every piece of furniture to avoid scratches and to extend the life of your floors. Don't worry, laminate flooring typically lasts 15 to 25 years.
How to install Laminate wood flooring over Vinyl?
Now you know everything there is to know about both of them, especially their installation. If you want to renovate not only the look but the feeling of your house, contact us or check our products on our website.
Get in contact with us, at Metaflooring, and make every step count! You can receive a free quote by clicking here and getting in contact with our team.
Your new floors, new home, and new life are waiting for you!