If you're looking to renovate the floor of your home, you probably have a perfect image of it on your mind. You already have tiles and don't want to deal with the mess and stress off taking all of them off. But you dream of those amazing vinyl plank floors! So the question is: can vinyl plank flooring go over tile?
And to go straight to the point, yes! But there are some things you need to know about it. So keep reading this article to understand more before compromising on your new vinyl plank floors!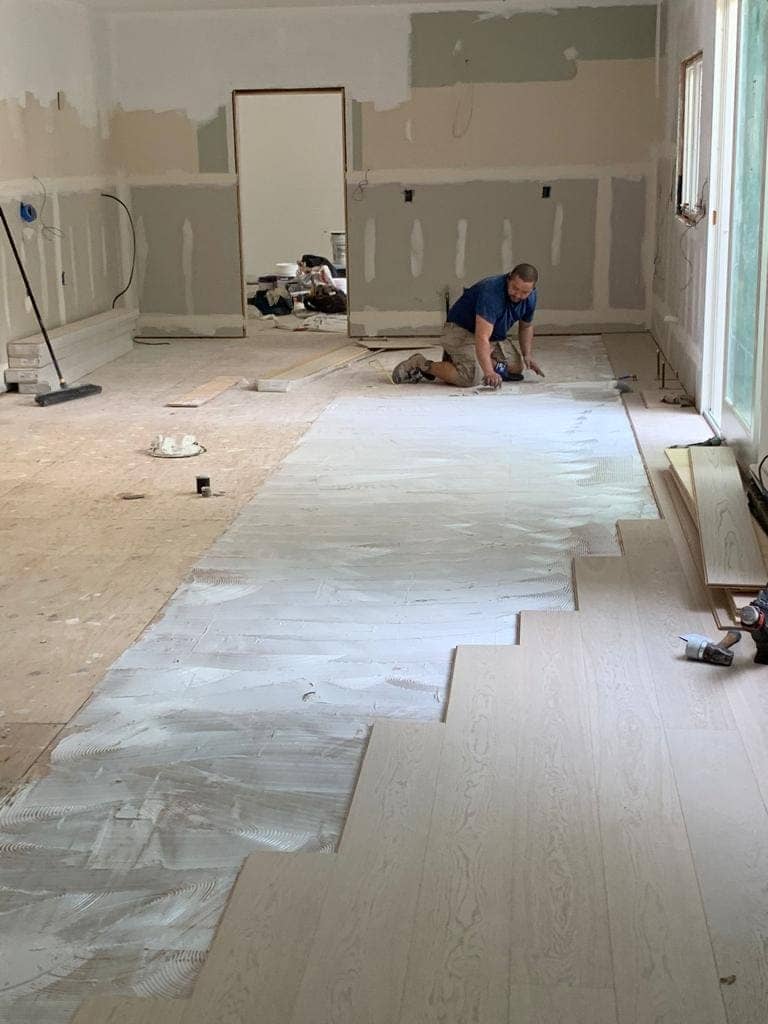 What is vinyl plank flooring?
There is no doubt why this is becoming an incredible option for those who want to renovate their kitchen in a quick and stress-free way. But also don't want to lose anything in the durability or beauty aspect of it. They are waterproof, easy to install, beautiful and can be found in a variety of colors and shades.
Vinyl planks are strips designed to resemble hardwood and be as durable as it. You can find the exact color you pictured that would match your home perfectly. They won't scratch or chip as they are made out of 4 tough layers of materials. One to grip on the surface below it, one to toughen it and make it waterproof, the printed one that has your perfect design on it, and one that stands the wear over time.
Why are vinyl planks perfect to be installed over tile?
The main reason is that there is no need to remove the tile, unless broken or cracked, before installing it. In fact, the surface of tile is perfect for the planks to grip onto.
They are highly durable and can be put on high traffic areas. Pets, kids toys and high heels won't scratch them! It is versatile and can easily be cut to fit any corners. The best part is: it is waterproof! So you can even install it in your bathroom without any worries.
How long does it take to install vinyl plank flooring?
Imagine how long it would take if you had to remove all the tile before installing your new vinyl plank flooring?
Happily, you don't even need to think about any of it. And it will only take from 1 to 3 days for it to be fully ready to walk over!
If it is just a click lock type, it will take only a day or so. As soon as it is installed, you can already walk over it. As for the glue-down types, you'll need to wait from 1 to 2 days for the glue to settle and dry, then you can walk normally over your new floor.
What materials can you install vinyl plank flooring over?
Vinyl plank flooring is a very versatile material. It can be installed over a handful of types of flooring and still be as durable and beautiful as ever. Let's see what kind of materials it can be installed over:
Wood
Yes, wood! You can install vinyl plank flooring over wood without any problems, assuming there are no imperfections on the surface. If there are loose boards, gaps or deep dents, you need to fix them first. Once you do, just make sure that your floors are clean, and you can call the installation crew to bring your new floor to life!
Ceramic or natural stone tile
As we mentioned before, you can install vinyl plank flooring over tile. Just make sure there are no broken pieces or gaps on the way, so they can be safely installed.
Laminate flooring
You can safely install vinyl over laminate flooring, just be careful as it is not waterproof. So be sure to seal it and be careful when installing it in an area like the kitchen, for example.
Where to find a good vinyl plank flooring installer?
We, at the Meta Flooring Sarasota, think about every detail of the installation of your new floors. We make sure everything is in order, to make every step count and bring to life the home of your dreams!
Get in contact with us to get a free quote on the floor of your dreams. Click here to find out more!