Are you moving or even renovating your house on a budget? There are some alternatives to be considered for this end. Some structures can be moved, reused and renovated. In addition to ensuring greater agility for the completion of the project, vinyl flooring has impeccable durability and provides a comfortable environment with thermal and acoustic properties.
So, can vinyl plank flooring be reused
Looking at the floor, unboxing it simply and conveniently, and packing it up for the move. A dream? No, now, thanks to new technologies, your vinyl flooring can be moved with you.
Because it works with a quick fitting system, new vinyl floor can be reused and reinstalled in the new residence. This makes it an excellent flooring option in the line of floors for those who want to move quickly or are thinking of remodeling the house without inconvenience.
The fitting system reduces the product's installation time. In other words, its placement is very practical, clean and silent. And the best thing is that it can be placed on existing floors, as long as they are properly leveled, without imperfections, mold, or infiltrations.
Some companies offer a 15-year warranty for residential environments and a 5-year warranty for corporate environments. Its patterns are usually madeiron and have a finish similar to that of natural wood, with the advantage of being an eco-friendly product. Besides the fact that the manufacturing follows rigorous quality standards, no wood is used in the composition of such floors, which can also be recycled.
How is the process of moving the vinyl flooring?
Anyone who has ever remodeled knows that in the course of a renovation unforeseen things can happen. After some installations of this flooring, you learn a lot:
Tip #1- Surface- The surface that will receive the vinyl flooring must be leveled. There is no problem if there is an existing floor, such as ceramic tiles or wood. You just need to avoid imperfections in the base.
Tip #2- Removal – For a new installation (as is this case) it is necessary to be careful when removing the pieces. As the fitting is thin, it can damage some of the floor's rulers, which can make positioning in the new space difficult. In this case, you need to use glue. But glue will lose you all the practicality of the floor.
Tip #3- Cuttings – This is a very practical floor and the planks can be cut with a stylus. A great solution for construction sites that cannot make noise and disturb the neighborhood.
Tip #4- Disadvantages- As vinyl flooring is launched every year, with new patterns and shades, many of them go out of line quickly. For this reason, the tip is to buy extra flooring and save a surplus of around 10% to 20%.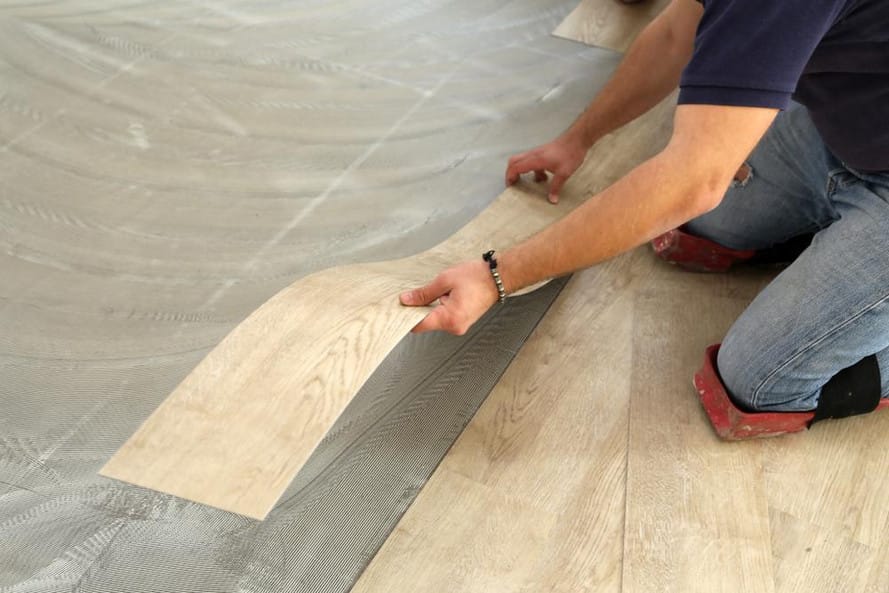 Are vinyl floors water-resistant?
Another characteristic of vinyl floors is that they are totally water-resistant. Therefore, they can be applied in any environment, including those exposed to humidity. Composed of vinyl polymers, their surface is covered by a silica-based resin, capable of withstanding humidity, without dilating or deforming.
The 0,2 inches thickness also contributes to the superior resistance, therefore, they are also an excellent option for flooring in environments with intense traffic. Acoustic comfort is not only restricted to not bothering the neighbors with the placement of the floor, but also prevents the sounds of the famous "toc toc toc" of shoes or children running from propagating.
Tips for the flooring scraps
Have you chosen the flooring you always wanted, installed it, and now don't know what to do with the vinyl flooring scraps? With a little creativity combined with the versatility of this coating, it is possible to give new life to the leftovers by reusing the rulers in the decoration of environments and even in the creation of objects. After all, waste is a word that is totally out of fashion, and sustainability is increasingly in fashion, especially in decoration.
Check out suggestions for reusing vinyl flooring scraps:
How about making the room cozier? Depending on the amount of vinyl flooring left over, it is possible to create a charming headboard for the bed. Just install or glue the floor on the wall and you are ready! A renewed and stylish environment!
Do you want to make your living room more beautiful? Create a TV panel with the leftover vinyl flooring. The installation is quick and practical, and the result is amazing!
How about making the garden or the balcony more beautiful? The leftover vinyl flooring can be reused in the construction or covering of a flower box.
So, feeling more encouraged to move your vinyl plank flooring? I would think so!
High Quality Installation is Essential
Your floors should be stunningly beautiful, but also painless to maintain. They should feel just right, without ever limiting your freedom. All of that is possible with a high-quality installation.
Make no sacrifices, we will give you the floor you want, and we're going to do it your way.
If you're in Sarasota, call us for a free estimate!
Let's sit for a coffee and talk about your project!