When it comes to designing a house or upgrading yours, you can usually be one of the two: the person who doesn't really put much effort into the floors, or the one whose dream is to have quality Engineered Hardwood Floors! And with that comes a lot of questions and worries. Like, how to take care of them? Are Engineered Hardwood Floors Sealed?
In this article, you will see how to tell the difference between a sealed Engineered Hardwood Floor and a non-sealed one. Plus, we will share some tips and break some myths about this technology.
What is an Engineered Hardwood Floor?
Engineered hardwood is an innovative solid hardwood flooring option. It combines the beauty of genuine hardwood with the durability of no other flooring.
The engineered wood planks include an engineered core that offers moisture resistance and durability, and are topped with a genuine wood veneer. Because of the design of the plank, engineered hardwood floors may be installed in any space without anxiety. Your flooring will look great in every area, whether it's the bathroom, kitchen, living room, or bedroom, and they'll withstand daily wear and tear.
Because planks consist of a plywood core with a significant surface layer of hardwood that can even be refinished a few times, they are practically still hardwood and give the same exact appearance and feel.
Do Engineered Hardwood Floors need to be sealed?
One of the advantages of Engineered Hardwood Floors is in its durability. Because of its design, they are among the most durable flooring solutions on the market. Engineered hardwood floors, which are made of a moisture-resistant core and a strong hardwood veneer, are designed to look beautiful even after years of use.
So, are Engineered Hardwood Floors sealed? The majority of engineered hardwood is pre-finished and does not require sealing. However, you may apply a seal on engineered wood to offer an extra layer of protection against water leaks and spills. Floor sealing helps maintain your flooring in good condition for a longer period of time.
Although you don't need to seal them, you may choose to do so for added security. Because sealing extends the life of your wood floors and keeps them looking lovely for years, the investment may be worthwhile in the long run.
How to tell the difference between a sealed Engineered Hardwood Floor from a non-sealed one?
To tell the difference, be sure to start with a very clean floor. Then rub it with your fingertips. The floor is surface sealed if there is no smear. Therefore, if you smear the floor, it means that it has been coated with a penetrating seal, oil finish, or varnish, and then waxed.
So consider checking when your floors were installed. Surface sealing is most typically present on a modern wood floor. You will see a difference over time if you do this. Seal it if you think it's worth it.
How to care for my Engineered Hardwood Floor?
An engineered floor is simple to maintain, and if done properly, the wood flooring will last for many years. Inadequate maintenance and cleaning frequently result in issues that impair the performance and aesthetics of the floor.
Be sure to keep in mind that natural products are only as good as the materials used to make them. That means that they are still made of wood, so don't expect them to be indestructible, even if they are still really tough. They are yet susceptible to injury or scratching, as with real wood. However, if you follow these guidelines, you will enjoy lovely flooring for many years.
Use felt pads under all furniture to avoid scratches;
Use slippers or non-abrasive shoes inside. Avoid heels and dirty shoes;
Lift items, do not drag them across the floor;
Use maintenance oils and regular seals.
But, besides avoiding scratches and dents, cleaning it well is a good way to maintain its integrity. And, as you will see, it is not hard at all!
How to clean Engineered Hardwood Floors?
Clean it with a soft broom or a vacuum cleaner;
Use a wet mop pad or a wipe to deep clean the dust with water;
Spray a cleaning solution and mop it lightly;
Let it air dry and it's done!
See? It is simple to take care of your own Engineered Hardwood floor. Now, are you ready to have your own?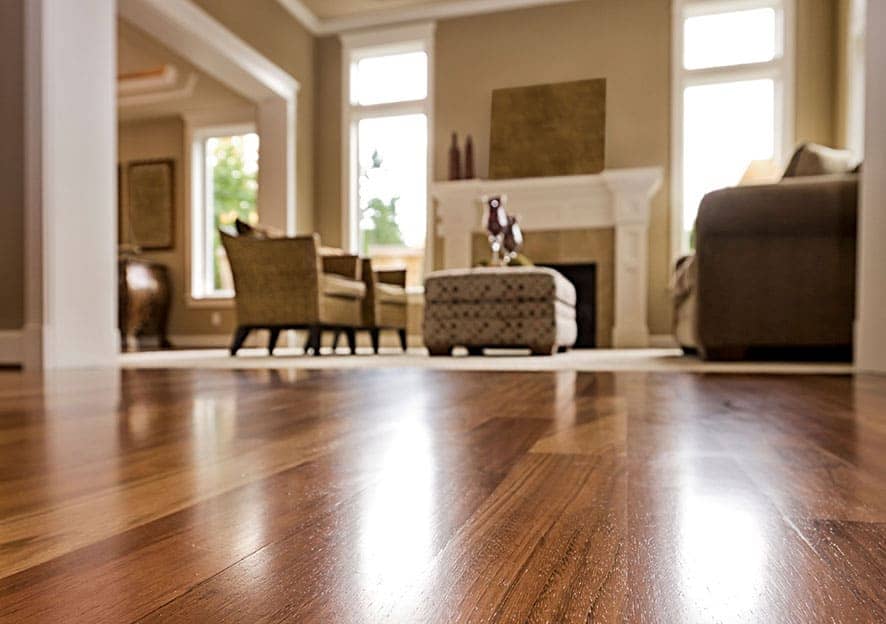 Quality Engineered Hardwood floors with quick installation
And if you like hardwood flooring but want a more affordable option, engineered wood floors are for you, especially if you reside in Florida. With our high-quality installation, you will be able to enjoy your flooring for many years to come.
If you live in Sarasota or any of the surrounding areas, you can take advantage of our high-quality residential and commercial engineered wood floor installation services. For a free quote and guidance on your flooring needs, please call or text us. You can find our information by clicking here.